Providing Mass Air Flow Sensor Services To All Of The Benton County Area
The #1 Source for Centerton Mass Air Flow Sensor Testing
Goodmon's Auto Repair is a complete Auto Care mass air flow sensor testing service for all Brands of vehicles in Centerton, AR. We have been in business for over 40 years. We pride ourselves on honesty, integrity, and good business practices. And, we make this a priority in every partner location. Nearly all mass air flow sensor problems that are brought to us are resolved while the customer waits. You can always be certain you're getting high-quality work on your car or truck at one of our locations.
Having a car mechanic you know and trust in Centerton is important. Here at Goodmon's Auto Repair, we completely understand that. We treat our customers like family. We know they depend on their vehicles for getting to and from work, vacations, and more. Our ASE Certified Technicians must have automotive training and re-certification every 5 years. We want to ensure their skills are always up-to-date with the newest vehicles.
What kind of results does this produce? The most qualified mass air flow sensor mechanics near me! In fact, our Centerton auto repair service will get your mass air flow sensor working like new. Your check engine light will go out and your vehicle will run as smooth as ever once we're done with it! Goodmon's is dedicated to making your vehicle completely safe for you & your family. Never worry about reliability problems again.
Need Mass Air Flow Sensor Problems Resolved? Call Goodmon's & Schedule A Visit: (855) 557-7329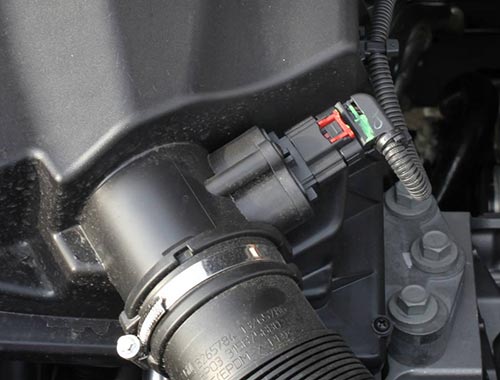 We resolve our customers mass air flow sensor problems FAST. Some other problems we fix related to the MAF sensor include:
MAF Sensor Replacement
Air Filter Replacement
MAF Sensor Cleaning
Air Filter Cleaning
Mass Air Flow Sensor Testing
MAF Sensor Problems
Cabin Filter Replacement
Check Engine Light Reading
What Are The Signs Of A Bad Mass Airflow Sensor?
The mass air flow sensor measures the amount of air entering your vehicle's engine. Then it sends some calculations to the ECU so it knows how much fuel to mix with the air. When the MAF goes bad, the computer no longer knows how much air your engine is getting. As a result, this lack of information can cause your engine to have very poor performance or even go into limp mode. But, poor performance doesn't necessarily mean the MAF sensor is bad. It's entirely possible that it's just dirty. If you'd like to clean it yourself, there are some MAF cleaning tools available on Amazon. If that doesn't work, here are a few clues that your MAF sensor has gone bad.
To start, it can cause problems that are like a bad vacuum line or low compression. Some symptoms include the engine turning over lots of times before starting. Or, the engine may stall shortly after starting. Another symptom is the engine hesitating while under load. Any hesitation or jerking while accelerating is another sign. Engine "hiccups", or excessively rich/lean idling can mean a bad MAF sensor. If you have any of these mass air flow sensor problems with your vehicle, there's a chance that your MAF has failed. You're MAF should at least undergo some mass air flow sensor testing.
Don't worry though! Mass air flow sensor replacement is a specialty at all Goodmon's partnered Centerton auto repair shops. If you know or suspect your MAF sensor has gone bad, don't hesitate to give us a call! We'll get you connected to a specialist who can help you get this problem solved in no time.
How Often Do I Need To Change Car Air Filters?
Your car's air filter is something that, like brake pads, wears out as time goes on. All filters need to be replaced periodically to keep your vehicle performing at peak levels. However, it's a vital component that a lot of people forget about or don't think is that important. But your air filter is crucial. When it's not replaced often enough, can cause the engine to not perform as well or as efficiently! A clogged air filter may even make you think you need mass air flow sensor testing.
So, now you're probably wondering how often you should change your air filter. Well, depending on your specific driving habits and environment, we recommend you change your air filter every 15,000 to 30,000 miles. If you drive on unpaved roads with a lot of dust, you'll need to change it more often. Uncertain? Open the hood of your car and remove the filter from the air box. If it's particularly dirty and the paper is flimsy and old, you should replace it.
If you have a reusable high performance air filter, be careful when cleaning it. Make sure you buy the proper cleaner and oil, otherwise the filter won't do its job properly. Unsure of where your air filter is exactly or how to clean a reusable one? No worries! Just call Goodmon's at (855) 557-7329 and schedule a time to bring your vehicle in for a visit. We'll take care of this and anything else you'd like us to address.
How Do I Know If My Air Filter Is Bad?
Air filters play a critical part in your engine performce and are tightly connect to your MAF sensor. They affect your vehicles efficiency levels and are responsible for the power it has. A bad air filter can actually damage things like your mass air flow sensor. This can happen if it's old and isn't filtering everything out. There are a few indicators that its time to replace your air filter before you need mass air flow sersor testing.
The #1 sign you need to replace an air fliter is a decrease in fuel economy. Your engine will burn more fuel to compensate for a lack of oxygen. In turn, this will lower your gas mileage and cost you more money in fuel. The second most common sign, is a reduction in horsepower. Noticing your vehicle has a lot less power all the sudden? Check your air filter first. It may not be getting enough air to perform properly!
A few more things to be on the lookout for can include a misfiring engine. Any unusual sounds coming from the engine, or the check engine light coming on? Do you have black smoke from the exhaust, or smell raw gasoline. If you notice any of these problems, don't worry. You can call Goodmon's Auto Repair right now! Schedule a mass air flow sensor testing in Centerton as soon as you can. We'll take a look at your vehicle to figure out exactly what's wrong and get it fixed FAST.
Let Us Do The Mass Air Flow Sensor Testing For You. Book An Appointment: (855) 557-7329
Other Auto Repair Services In Centerton