Providing Exhaust Replacement Services To All Of The Middlesex County Area
We're Your #1 Highland Park Exhaust Repair Shop
Goodmon's Auto Repair is an exhaust shop near me that services all makes and models of vehicles in Highland Park, NJ. We have been in business for over 40 years. We pride ourselves in honesty, integrity, and always practicing good business with our customers in partner locations. All exhaust repairs we perform on customer vehicles are held to the absolute highest standard. You can always be certain you're getting high-quality work on your car or truck at one of our locations.
Having a car mechanic you know and trust in Highland Park is extremely important. Here at Goodmon's Auto Repair, we understand that our customers are people just like us. They heavily depend on their vehicles for getting to and from work, school events, grocery shopping, and more. That's why our ASE Certified Technicians constantly undergo the most current automotive training and re-certification every 5 years. We want to ensure their skills are always up-to-date with the newest vehicles.
What kind of exhaust shop does this produce? The most knowledgeable exhaust repair mechanics in Highland Park who keep your car quiet and running at peak performance. We're dedicated to making your vehicle exhaust safe for you & your family at every partner facility we have. We don't want anyone to ever stress over vehicle safety or dependability.
D You Need Exhaust Repair? Call Goodmon's Exhaust Shop Today: (855) 557-7329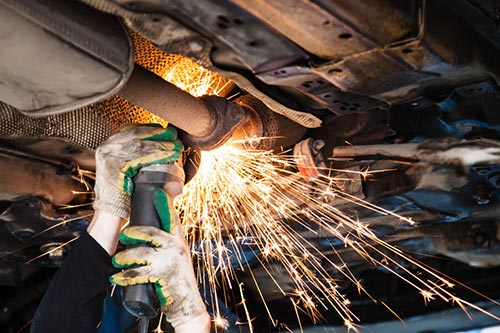 We provide our customers with the highest quality exhaust repair shop services available. Some examples of exhaust problems we can quickly solve for you include:
Exhaust repair
O2 sensor replacement
Exhaust replacement (front-to-back)
Catalytic converter repair
Muffler repair
Exhaust manifold repair
Catalytic converter replacement
Exhaust leak repair
Muffler replacement
Exhaust welding
O2 sensor cleaning
Exhaust installation
Custom exhaust
How To Fix An Exhaust Leak? Call Goodmon's @ (855) 557-7329
An exhaust leak can be dangerous for everyone inside your vehicle for multiple reasons. To start, a leak can fill your car with toxic carbon monoxide. This can make you feel sick or even fall asleep while driving. Another bad thing about a leaking exhaust is that it increases emission levels, causes a bunch of noise, and can even make your check engine light come on. Due to just these three reasons, it's highly recommended that you get any exhaust leaks fixed immediately. Here are a few things you can do to try to fix it yourself.
First, you're going to need to locate the leak. Safely jack the car up and inspect the piping for damage like scrapes, rust holes, cracks, or broken exhaust clamps. You can start the vehicle to help you locate it if you're having a tough time. With the car running, cup your hands around your exhaust piping and feel for air escaping. Once you've located the source of the leak, scrub the area with a steel brush (or something similar) to clear any debris away. Depending on how badly it's damaged you have a few things you can try to fix it.
Exhaust Repair 101
Your first option, if the hole is small enough, is to use epoxy. Sand down the area and use acetone to clean any oil or grease. Then mix some epoxy together and apply it to the leak. Allow it to dry and, if done properly, your leak should be sealed. If you have a bigger hole that epoxy won't cover, you'll need to patch it. You can try laying down a piece of aluminum (like from a pop can), or cutting a coffee can then wrapping it around the damage exhaust pipe. Finally, secure it in place with hose clamps.
If none of this has worked, don't worry! Call Goodmon's Auto Repair today and we'll connect you to a Highland Park exhaust repair shop who can fix your leaking exhaust correctly. They may need to completely cut out that piece of pipe and weld in a new one. However, you won't need to worry about a loud and dangerous leak anymore!
When Do I Need to Replace My Muffler?
The muffler is one of the key components to your exhaust system. It does exactly what the name implies – it "muffles" the loud engine sounds. It also helps to direct the exhaust gases out to the rear of your vehicle. A defective muffler means a lot of distracting noise while you're driving. It can also cause very serious health problems from carbon monoxide for everyone inside the car.
There are some signs you can watch for if you think you're due to replace your muffler. The most noticeable sign that your muffler is shot is when your vehicle becomes extremely loud all of the sudden. Further indicators that you need muffler repair is if you see any large pieces of pipe dragging under the car. Finally, if you notice large amounts of water leaking from the muffler then you may have a problem. Some condensation is normal, but a steady leak is not. This could also indicate bigger problems with the engine, especially if it's green or red in color
Trying to crawl under your car to perform a muffler or exhaust system inspection can be intimidating. Plus, without the proper tools, you likely won't be able to replace the muffler yourself. Don't worry though! Just give Goodmon's a call at (855) 557-7329. We'll connect you with a local Highland Park exhaust shop who can handle any and all muffler problems you're having with ease.
Do I Need A New Catalytic Converter On My Vehicle?
If you're experiencing catalytic converter problems with your exhaust system, like a check engine light, then your catalytic converter or oxygen sensors may be to blame. Your catalytic converter (or "cats") are a vital part to your exhaust that regulates the emissions produced by your engine. However, it's pretty tucked away so it's something that most people don't think about or even know exists until something goes wrong with it.
There are a couple of things you should be on the lookout for if you're thinking you may need catalytic converter repair. The first sign of trouble is the check engine light. The codes given from a check engine light could be numerous. A misfire detection, oxygen sensor problems, or an emissions malfunction can all be signs that you need a new catalytic converter. Further signs you may have a problem with your cats is if you notice a sharp decrease in performance or if your fuel consumption has increased.
Your catalytic converters are likely towards the very front of the car and often look like small mufflers. Their location usually makes them difficult to get a good look at to inspect for any problems. This shouldn't worry you though. Goodmon's has the expertise and equipment to thoroughly inspect your catalytic converter(s). Our Highland Park exhaust shop near me can replace these if need be. There's no need to stress – Goodmon's has your back!
Make Goodmon's Your Exhaust Repair Shop. Schedule An Appointment Today: (855) 557-7329
Other Auto Repair Services In Highland Park